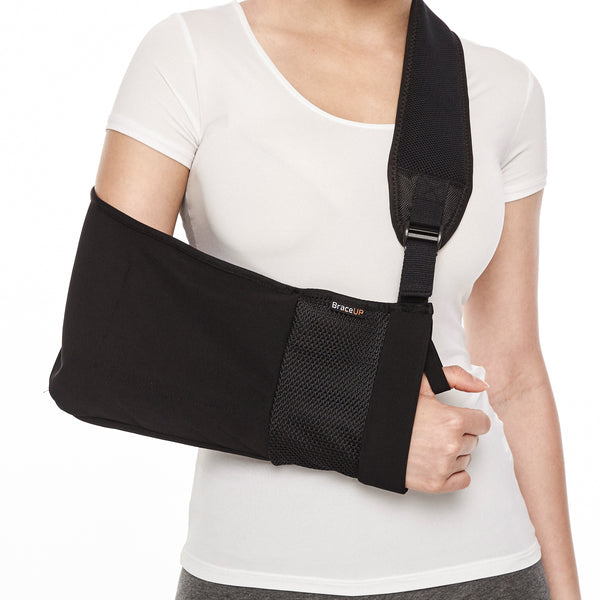 Injuries may slow you down, but they don't have to make you miserable. Recover in comfort with the arm sling from BraceUP. Our arm sling features a wide, cushioned shoulder strap for maximum comfort. The strap is fully adjustable to raise your arm to your ideal height which alleviates pressure and pain. Our premium quality material is breathable and super soft, releasing excess heat and moisture to keep your arm cool and comfortable. Plus there is a thumb loop for improved hand support. Two large size storage pockets easily hold your phone, credit card, and more.
✅ ALL ABOUT COMFORT: We know it could be unpleasant with a shoulder or elbow injury. So we picked a premium soft-touch material for our sling. We also make sure the shoulder sling straps are wide enough and have extra cushion to give you maximum comfort. 

✅ EASILY ADJUST: The arm sling can be easily adjusted with one hand, so you can achieve a customized fit even after putting on the sling. 

✅ BREATH FREELY: Our material is so breathable so you won't feel hot and moist even wearing it for an extended time. 

✅ THUMB LOOP FOR MORE SUPPORT: Elastic thumb loops are sewed on both sides. So you can comfortably rest your thumb on it, giving you extra support.

✅ LARGE SIZE STORAGE POCKETS: Two large storage pockets sit on both sides of the sling. You can easily access your phone, credit cards, or anything else that you want to keep handy. 
Return Policy
You can return a product for up to 30 days from the date you purchased it. Any product you return must be in the same condition you received it and in the original packaging. Please keep the receipt.
All returns require a return authorization from BraceUP. Any product returned to us without the return authorization will be refused and shipped back to the sender. Please email us for the return authorization at support@BraceUP.com
Our website is 100% verified and all transaction and customer info is securely encrypted with the latest technology.
Reviews